Skip Main Content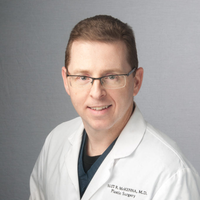 Dr. Scot McKenna
ROLE:
Plastic Surgeon
SPECIALTIES:
LANGUAGES:
WE CARE ABOUT YOUR FEEDBACK!
Please take a moment and let us know how your experience was.
REVIEW US
Meet Dr. Scot McKenna
Dr. McKenna is a board-certified Plastic Surgeon who has been in solo practice since 1999. He is board certified by the American Board of Plastic Surgery and by the American Board of Surgery and a Fellow in the American College of Surgeons. Dr. McKenna performs a significant amount of cosmetic surgery including: breast augmentation, facelift, blepharoplasty (eyelid surgery), rhinoplasty (cosmetic nasal surgery), abdominoplasty (tummy tuck), liposuction, body contouring, mastopexy (breast lift), neck lift, mini-facelift, laser facial resurfacing, and brow lift. He also does reconstructive surgery which includes breast reconstruction, skin cancer treatment and reconstruction, post-bariatric surgery, breast reduction, removal of skin lesions, and trauma reconstruction.
Dr. McKenna holds teaching positions at The Commonwealth Medical College and Marywood University Physician Assistant Program. He also donates his services to patients without insurance through the Leahy Clinic in Scranton, PA.
Dr. McKenna is the owner and CEO of PURE Medi-Spa in South Abington Twp. He established PURE Medi-Spa, LLC as northeastern Pennsylvania's first true medi-spa in 2005. As a Plastic and Reconstructive Surgeon, his specialty and background set the medi-spa and the services provided apart from others in the area. At his medi-spa(opens in a new tab), Dr. McKenna provides an array of treatments including Botox, Dysport, Juvederm, Volbella, Voluma, Restylane, Kybella, Laser Vein Removal, Laser Skin Resurfacing, Refinity Chemical Peels, Microlaser Peels, and Sclerotherapy. PURE Medi-Spa, LLC offers a state licensed Registered Nurse, Injector, Kara Cruciani, BSN, RN, LE who performs a large number of our Botox, Dysport, Juvederm, Voluma, Volbella, Restylane, and Kybella injections. She is extensively skilled in the field of injectables and has been trained by Dr. McKenna within the Plastic Surgery specialty.
Dr. McKenna has clinical privileges at the following institutions:
Lehigh Valley Health Network, Dickson City, PA
North East Surgery Center, Dickson City, PA
Wayne Memorial Hospital, Honesdale, PA
Education
Temple University Hospital

Plastic & Reconstructive Surgery Residency

1997 - 1999

Mercy Hospital of Pittsburgh

Residency in Plastic & Reconstructive Surgery

1992 - 1997

Jefferson Medical College of Thomas Jefferson University

1988 - 1992

University of Scranton

1984 - 1988

Scranton Prep

1980 - 1984
Thank you for subscribing!
You will receive important news and updates from our practice directly to your inbox.
Thanks!